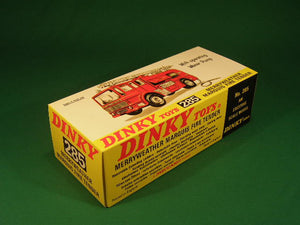 The box shown here is for the Dinky Toys #285 Merryweather Marquis Fire Tender later type models.
  It DOES NOT include the inner 'plinth' with header card as on the early versions of this model.
It is the outer 'end flap' type box only.
Earlier versions of this model were supplied in a box with an inner 'plinth' as well as the outer sleeve.    We can also supply the box for those earlier models. 
Please see our other listing under this model number for the early 'outer only' box version.